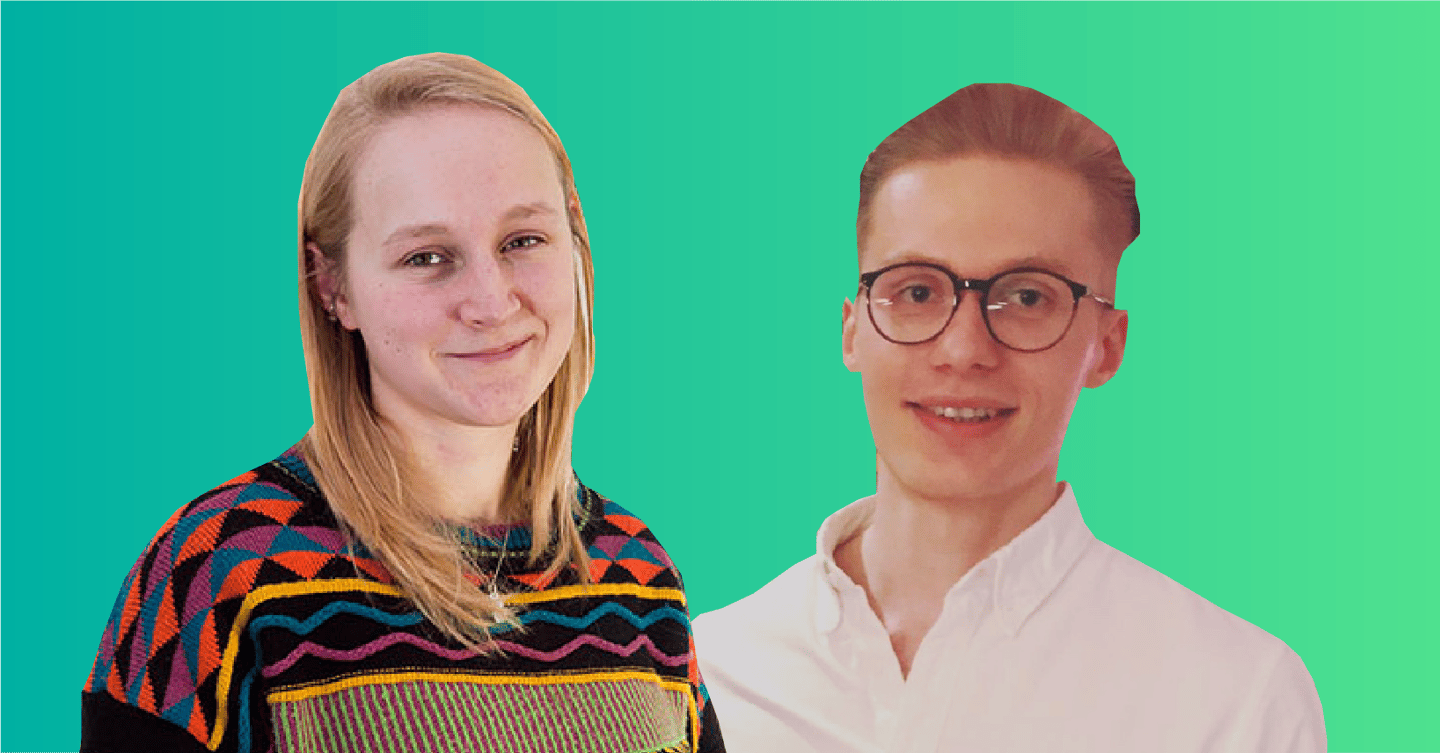 The people behind the data
We are delighted to announce that our growing team has welcomed two new data scientists - Hollie and Mac.
Let us introduce you! We asked them to share a little bit about themselves, their careers in Data Science and how they're getting on in their first weeks at NICD. Read on to get to know our fantastic new team members!
What attracted you to come and work at NICD?
Hollie: I was keen to work on a variety of different projects and learn from a team with a wide-ranging skill set.
Mac: NICD is driving the data revolution in the North East. Specifically, I was captivated by NICD's unique business model, which aims to simultaneously deliver tangible data-driven solutions and upskill employees of clients' organisations. This unique business model emphasises the importance of creating links between universities, and the public and private sectors. A role of a Data Scientist at NICD seemed like a perfect fit for me as it combines plenty of interesting technical work with meaningful client interaction.
What were your first impressions of NICD?
Mac: I was blown away by the breadth of expertise within the team. NICD has managed to assemble a very talented team of data scientists from a wide variety of backgrounds. Given this, it is unsurprising that NICD has such an impressive portfolio of clients from private and public sectors.
Hollie: The whole team is friendly and supportive, and despite the challenges of starting remotely I felt immediately welcomed as part of NICD. Also, the office in The Catalyst is stunning!
I was captivated by NICD's unique business model, which aims to simultaneously deliver tangible data-driven solutions and upskill employees of clients' organisations.
What do you like about Data Science?
Mac: There is a lot to like about Data Science. Firstly, Data Science could be leveraged as a tool to make more informed decisions; these data-driven decisions are already transforming a wide variety of sectors from healthcare, finance to agriculture. Secondly, the interdisciplinary nature of Data Science puts a strong emphasis on knowledge sharing. Moreover, as Data Science is a rapidly evolving field, there is so much opportunity to develop new skills to tackle real-life problems.
Hollie: Since all kinds of data underpin many areas of our lives, it's a key tool in solving all kinds of problems. Data science is evolving fast and although it can be challenging to keep up with new developments it's exciting to be working with emerging research and technologies.
What have you enjoyed most so far about working at NICD?
Mac: I really enjoyed discovering that NICD is a learning organisation. Learning is firmly embedded in NICD's culture and is aligned with their overall strategy. Staff can pursue their own research interests during a designated development time. I think that this is a great way of not only increasing staff engagement but also future proofing the organisation. Everyone at NICD is so approachable, no matter how junior or senior, which encourages collaboration and empowers staff.
Hollie: I've really enjoyed learning about some of the current projects and being able to spend time developing my skills. It's been great talking to the team about their different areas of interest - there is such a wide range of expertise in NICD.
What are you looking forward to doing in this role?
Hollie: I'm looking forward to working with clients and getting stuck into projects that can help develop their businesses.
Mac: I am looking forward to helping businesses on their digital transformation journey. I am excited to see how the power of data could be harnessed to create long-term value for NICD's clients.
Quick Fire Round
Tea or coffee?
Hollie: Coffee in the morning. Tea in the afternoon.
Mac: While both beverages are delicious, coffee edges it for me. Furthermore, the North East is a home to many excellent independent coffee roasters and I love sampling their products.
Who or what inspires you?
Mac: I am inspired by professional athletes as they epitomise hard work and commitment. They encourage us to keep chasing our dreams and do what makes us happy. Specifically, I am inspired by Tom Brady who is viewed as one of the greatest quarterbacks in the NFL. His success is down to an incredible willingness to learn, adapt and never give-up.
Favourite pastimes?
Hollie: Lifting weights, cycling, going on adventures and napping with my dog, Yogi.
Mac: Cooking and baking; if I wasn't a data scientist, I would be pursuing a career in gastronomy.
How do you look after your well being?
Hollie: I try to get outside as much as possible.
Mac: I try to follow the 8:8:8 rule, that is: eight hours of work, eight hours of free time and eight hours of sleep. During my free time, I tend to avoid passive entertainment, although I am very partial to watching a good documentary.
Name one challenge and one bright spot about working remotely.
Mac: Working from home means there is no shortage of snacks around, which is both a bright spot and a challenge.
Hollie: It's challenging being apart from the rest of the team, especially in a new role. However, it's great to have a bit more flexibility in the working day and easy access to the snack cupboard!