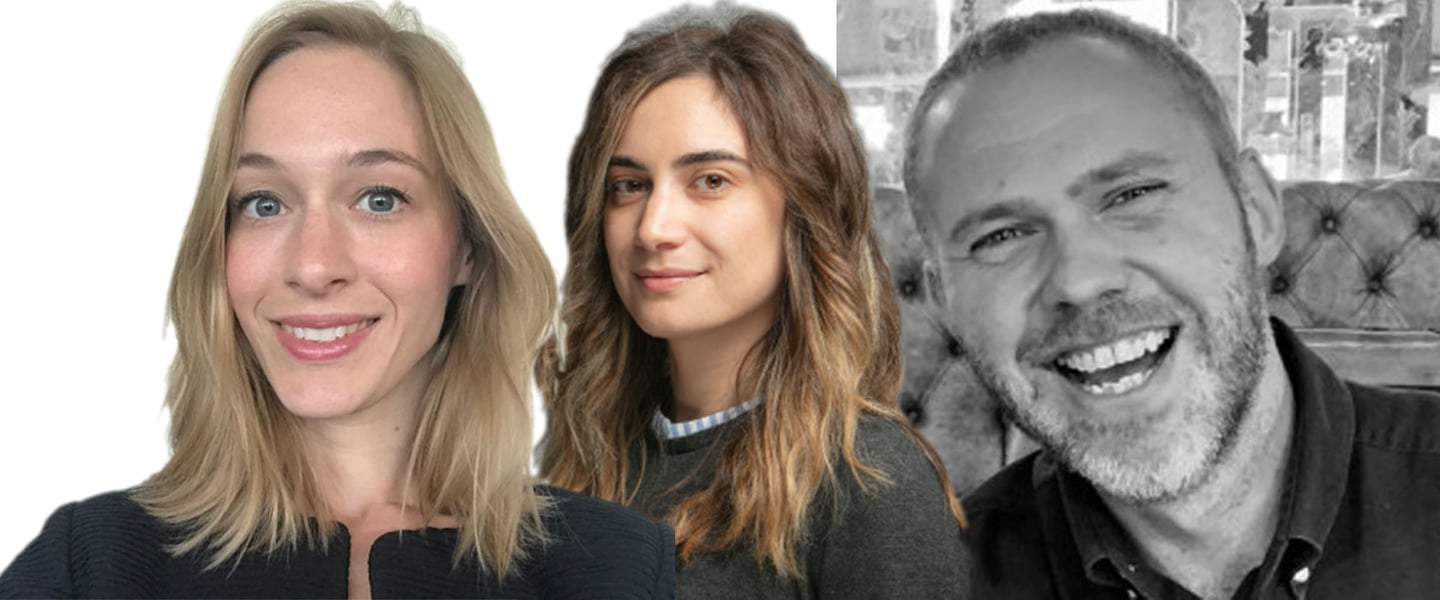 Exciting time at NICD
It's an exciting time here at NICD, as we were delighted to welcome three new data scientists to our technical team last month – Antonia, Graham and Louise.
Now that they're all fully settled in, we caught up with them to find out how they were getting on, their initial impressions of NICD and a little more about them.
What attracted you to come and work at NICD?
Louise: The NICD is at the heart of the data science community in the North East of England and is directly tackling the data skills shortage in the UK. Working at NICD is an opportunity to work alongside experienced colleagues who are passionate about data science and the positive impact it can make on the UK. I couldn't think of a better place to start a data science career.
Antonia: The ability to work on various projects with different collaborators, explore multiple technologies and learn new interesting things.
Graham: I am a big believer that you can never know enough. The opportunity to work alongside seriously clever people and with such a wide range of organisations is unique. Also, being able to support organisations in upskilling their staff whilst delivering solutions to harness their data is, to me, the best way to promote sustainable data practices.
What were your first impressions?
Louise: My first impression of the NICD was that it has a really great team. I was impressed by the breadth of the projects they tackle and how the team's individual specialities can be brought together in different ways to address a diverse range of business and research problems.
Antonia: That there is potential to continuously expand our knowledge along with being productive members of the team. Everything we know and learn can prove useful for a current or future project, due to their varying nature.
Graham: The team have been incredibly welcoming, always giving of their time to help. Whilst we can't be in the Catalyst at the moment, the building is truly iconic and I'm really looking forward to being in the office.
What have you enjoyed most so far about working at NICD? Has anything surprised you?
Louise: I have enjoyed shadowing my buddy John and the team meetings where I have been able to get to know my new colleagues. I have been surprised at how quickly the day goes! I had been worried that starting a new role and working remotely would be difficult but there is so much to learn that the days fly by.
Antonia: The diversity of projects and the ability to expand my knowledge.
Graham: The sheer variety of projects that we as a team support is mind-blowing and I've already encountered techniques and approaches that are new to me. One standout project for me is the opportunity to work with a local charity, helping them to gain insight into how they're helping tens of thousands of people in need – it's great to know that we can help to make a difference.
What do you like about data science?
Louise: Data science is a great discipline because it can be applied to any domain. As a cross-disciplinary subject, you can decide where you want to specialise whilst also having the opportunity to participate in a variety of collaborative projects. I also like that it is investigative and exploratory in its nature. It is fun to identify and solve problems.
Antonia: I like the process of exploring and using cutting-edge technology and statistical tools for data that derive from a broad range of areas.
Graham: The wonderful thing about Data Science to my mind is that data underpins all organisations, big and small, across all sectors and areas of our lives. By understanding the techniques and approaches needed to harness data you can help to bring about positive change within businesses and across society.
The role affords me the opportunity to continue honing my data science skills and widening my knowledge
What are you looking forward to doing in this role?
Louise: I'm looking forward to working on interesting projects and learning from my colleagues.
Antonia: Expanding and applying my knowledge to real-world problems and helping collaborators enhance and evolve their skills to derive valuable insights from their organisation's data.
Graham: The role affords me the opportunity to continue honing my skills and widening my knowledge. Data science is such a broad field and I'm really keen to know as much about all of it as possible. My particular focus rests on the communication and interpretability of data science, ensuring that the science can be accessible to all users – I'm looking forward to drawing lots of pictures!
Getting to know our team
Tea or coffee?
Louise: Coffee all day and fennel or ginger tea in the evening.
Antonia: Coffee.
Graham: Why discriminate? Coffee in the morning, tea for the rest of the day.
Favourite pastimes?
Louise: I like to spend my free time outdoors running or walking. I also spend a lot of time listening to music and podcasts. I've not been able to travel this year but I have really enjoyed listening to artists from across the world. I've particularly enjoyed music from South Africa and hope to be able to visit sometime in the future.
Antonia: Reading, photography.
Graham: I love spending time outdoors with friends and family, getting some fresh air and exploring new areas. We live near the coast so we're often down at the beach.
Who or what inspires you?
Louise: Before I took this role I worked with a team of neuroscientists and psychologists. Their passion for their discipline was hugely inspiring to me and was one of the reasons I returned to higher education.
Graham: My family is my inspiration. My fiancée and two little ones are a constant source of amazement to me and inspire me to work hard and enjoy life.
How do you look after yourself?
Louise: Exercise, food and friends are the things that have the most impact on my wellbeing. Since the start of lockdown, I have had a weekly breakfast call with four of my close friends. I look forward to this time every week.
Antonia: Walking and hiking in nature is something that I really enjoy. It helps me not only exercise but also clear my mind and appreciate things that we sometimes take for granted.
Graham: I try to take time out of the day, even if it's just a couple of minutes here and there, to find a quiet spot. I also try to get out of the house each day (not so easy at the moment) even if it's just a walk around the block.
Name one challenge and one bright spot about working remotely
Louise: Working from home is challenging because you miss the little social interactions that make up a normal day and give you insights into what the rest of the team are up to. The good thing about working from home is having access to my kitchen during the day so I can prepare nice lunches. Now that the winter months are upon us, I will be starting jacket potato Fridays and will be looking for some inventive filling alternatives. Let me know if you have any ideas!
Antonia: My bright spot is fresh homemade food but a lack of social interaction is a challenge.
Graham: The lack of human contact is definitely a challenge. Starting in a new team without being able to just grab a coffee or chat through things face-to-face is tough. A benefit would have to be the stolen moments with family throughout the day, catching up at the kettle or sitting down to lunch together – I'm very grateful for those.