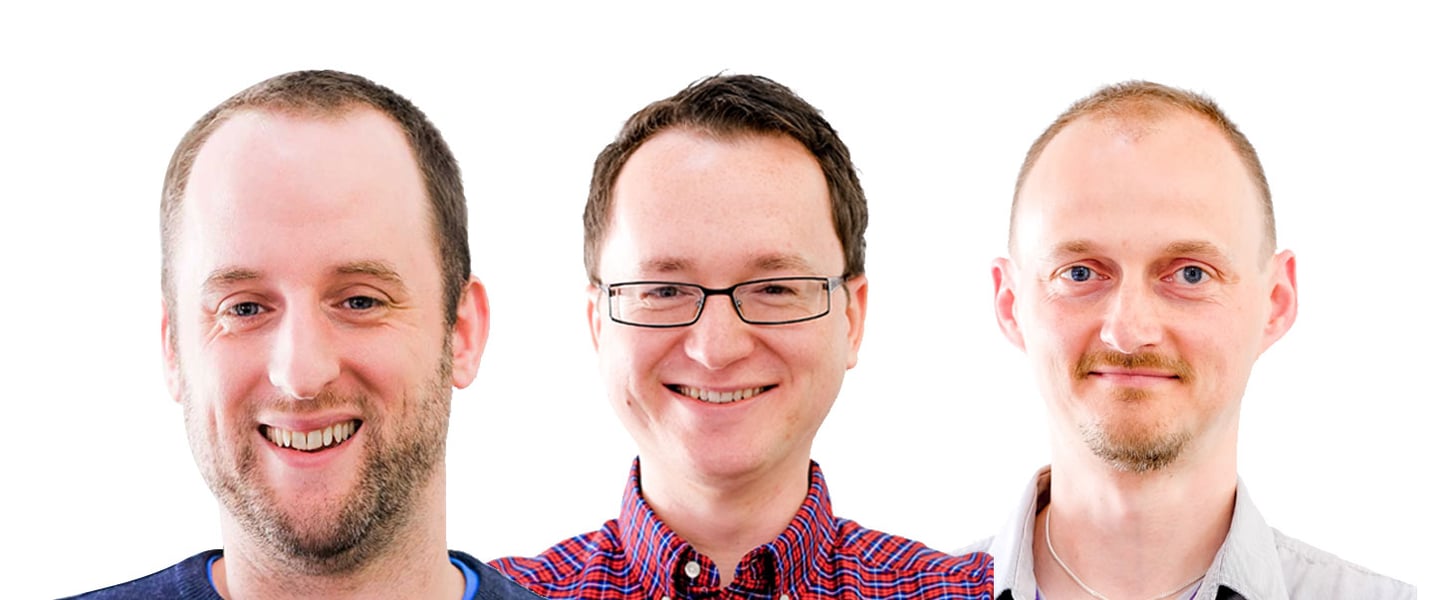 The people behind the data
Let us introduce you to some more of the people behind the data. These are three members of our incredibly hard-working technical team. Their job isn't to offer data consulting but instead to transfer data science skills to your team so that they can do the work themselves. Learn how they got into data, what they enjoy about working at NICD and their thoughts on the really essential questions!
Meet Data Scientists, Peter Michalak, Jacek Cala and Stephen Dowsland.
Why data science?
Stephen: Because data is cool! Seriously though, understanding data is super useful to understanding what is going on in the human and natural world around you. Never has this been more apparent than in this world of global pandemics and fake news. We are bombarded with data and information all the time and data science is key to unlocking, debunking and understanding it all!
Peter: The vast growth in the amount of data that is generated every day is very impressive. Having the right skills to analyse and produce new insights from these data seems as 'a must have' in today's world.
Tell us a little bit about your career path
Jacek: Student internship at my alma mater AGH-UST in Poland, which turned into employment. Did a part-time PhD while being a teaching assistant (don't mix these two unless you like to suffer). Then, moved to the UK to try something new. A researcher at Newcastle University since then. Joined the NICD team to share my skills and knowledge with companies.
Peter: I graduated as a computer engineer from University of Žilina, Slovakia. Then I joined Erasmus IT Pro programme to gain a double degree in Computer Software Engineering from University of Applied Sciences in Jyväskylä, Finland, after which I have worked as an R&D Software Developer in Tieto Finland Oy. After a year, I joined the Centre for Doctoral Training in Cloud Computing for Big Data at Newcastle University with my PhD focused on real-time data streaming applications for the Internet of Things. I completed my work in October 2020.
Stephen: My higher educational background is in Human Geography and Town Planning. For a number of years, I worked in Town Planning at a local authority. I really enjoyed that; especially the data and geospatial elements of the job. After a few years of that I took the plunge and moved into a software development and database admin role. After only three years (and two job changes) I ended up working for an international airline building scalable computing systems to handle the massive number of requests they deal with on a daily basis. Following this, I took up a job working in the School of Computing at the Digital Institute and Scalable Computing Group, which I saw as a chance to improve my skills at the cutting edge of research. I've been at the University ever since!
What attracted you to come and work at NICD?
Jacek: I'm always keen to apply research in practice and for good use. That's what you can do at NICD.
Stephen: For the previous five years or so I'd been working in creating scalable computing research at the University. The work I did was mainly looking at how to scale computing systems to deal with bigger and bigger amounts of data and how to process that and gain insight. Joining NICD seemed like a great logical step for me, being able to apply what I had learnt in research to challenges within different industries.
Peter: NICD works with a wide variety of companies that are exploring the potential of data they generate. This is very exciting as it offers unique insights into a wide variety of real-world projects.
I enjoy the opportunity to help companies to take advantage of their data, and real-world projects
What advice would you give to someone looking for a career in Data Science?
Stephen: Mainly, yes go for it! Always look for opportunities to upskill. If you're making a career change to move into Data Science, consider doing the MSc here at Newcastle.
Peter: Data Science skills are very valuable and will be needed by an increasing number of companies, so you are on the right track!
Tell us about what you have enjoyed whilst working at NICD. Has anything surprised you?
Peter: I enjoy the opportunity to help companies to take advantage of their data, and real-world projects.
Stephen: The variety of work never fails to amaze me. When I started working at NICD there was a small part of me that worried we would be working with companies that simply wanted us to sprinkle magic AI dust on their profits and watch them grow, but that's really not been the case!
Jacek: Projects at NICD are shorter and smaller in scope than full research projects. This is often appealing and makes them much more manageable.
The essential questions
Tea or coffee?
Stephen: Tea. Yorkshire Tea! But I do enjoy an occasional coffee – milk, no sugar, thanks.
Peter: Coffee to start my day, tea during the day, and herbal tea in the evening.
Jacek: Tea.
What do you like to do in your spare time?
Stephen: Anything that is not in front of a screen and is outdoors – except for computer gaming which I have started up again recently.
Peter: Walks along the beach, hikes, yoga
Jacek: Usually sleep but on rare occasions when I'm well rested, I really enjoy hiking, kayaking, skiing, cycling and meeting with friends.
How do you look after your wellbeing?
Stephen: Avoid eating too many takeaways (Just Eat you have a lot to answer for!) and running as often as I can.
Jacek: Spend time with family + a little prayer + a little exercise.
A good book for a rainy day?
Stephen: I don't really read a lot of fiction so probably anything that teaches me a new skill or idea.
Jacek: The Bible.
What was the last TV show you got addicted to?
Stephen: Inside No. 9
Peter: Star Trek
What was your first job?
Stephen: I grew up helping out on the family farm so I suppose my first job was a farmer. By about age 9 I had a load of my own chickens and was selling eggs to friends and family for about 40p a dozen – what a bargain!
Jacek: A copy typist as a teenager to earn some pocket money.
Peter: Data entry.
Favourite film?
Stephen: Wallace & Gromit: The Curse of the Were-Rabbit
Jacek: The Matrix
Do you have a signature dish?
Stephen: I think I make a pretty good homemade lasagne, everything from scratch, no jars of sauce allowed! Another favourite to make is ginger cake, all that sugar and syrup, what's not to like?!
Jacek: Not yet.
Name one challenge and one bright spot about working remotely
Peter: Positive: new work experience. Challenge: missing a whiteboard – or an easy ability to visually brainstorm with the team.
Stephen: One major challenge is the lack of normal coffee breaks where you get a chance to chat to other members of the NICD team or with one of our co-occupants at the Catalyst. A bright spot would be never missing a delivery as I'm nearly always in!
Jacek: Bright spot: you don't even need to take your slippers off to be in the office. Challenge: it's hard not to take this extra snack, which makes your belly fat thicker and thicker!