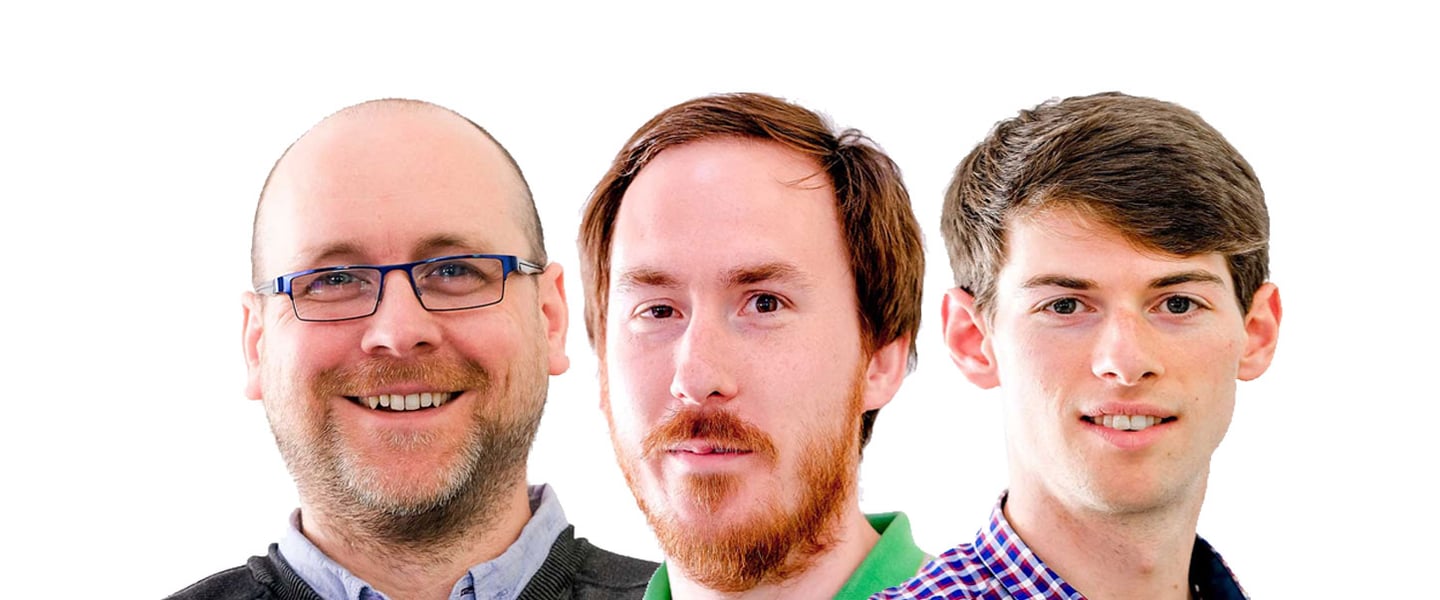 The people behind the data insights
You have met the newest members of our team, but how about the rest of the people behind our work to support the data strategies of some of the UK's biggest, and smallest, organisations?
We caught up with some of the members of our incredibly hard-working technical team to find out a little more about them and get their thoughts on some of life's essential questions.
Meet Data Scientists John Brennan, Jonny Law and Matt Edwards.
Why data science?
Jonny: Data science is not one single subject, it covers statistics, mathematics and machine learning combined with computing and programming. In addition, each specific problem requires specialist knowledge, such as clinical, biological, marketing etc. The variety of applications and the opportunity for interesting collaboration is what I enjoy about data science. Data science touches many disciplines and the core skills are applicable to just about every problem. Statistics provides rigour and generalisability of conclusions. Machine learning can produce algorithms which can understand human speech, translate languages and identify tumours in medical images. Suitable use of computing and programming can allow us to easily bring together relevant data (no matter how large) and reproduce results consistently.
Matt: Initially my interest was in statistics. I enjoy the flexibility of applying my knowledge of statistics to a wide variety of problems. Since data science combines statistics with the equally interesting computational challenges of large complex data sets it was a natural transition.
John: All questions can be answered with enough data – but only if you know how to handle that data.
Tell us a little bit about your career path
John: I started my academic journey as an electrical engineer. During this time I became heavily involved in high-performance computing and Cloud infrastructure, which led to an MRes in Computer Science. During this time, I began to recognise the importance of 'Big Data' and AI, leading to a PhD focused on Deep Learning.
Jonny: I studied Mathematics at undergraduate level at York University. At the time I was interested in Applied Mathematics. My final year dissertation was titled "The Possibility of Time Travel Using Wormholes". I accepted a job at Plusnet where I became a campaign insight analyst, I quickly realised my background in physics was of little use and learned how to use the database language SQL and statistical programming language R to process customer data. We fit models to understand customer churn risk, likelihood of responding to email and telephone marketing campaigns and understanding customers' lifetime value. I found learning about and developing models was the most interesting part of working at Plusnet and, to further my learning, I chose to pursue a PhD in Cloud Computing for Big Data at Newcastle University.
Matt: I first developed an interest in statistics and data analysis as an undergraduate student. Although after finishing my degree I was initially interested in becoming a secondary school Mathematics teacher and then a climbing instructor, I continued learning statistics as a general interest. I eventually committed to this interest and completed a Masters in Statistics followed by a PhD in Statistics before the joining NICD.
What attracted you to come and work at NICD?
Matt: I still have a passion for teaching and NICD provides a perfect opportunity to teach my statistical and data science knowledge to individuals in businesses that are enthusiastic to learn.
John: I was unsure whether I wanted to follow an academic or industrial career path and I saw NICD as the perfect blend of those two possibilities.
Jonny: The variety of work and the security of the contract compared to academic work.
I still have close contact with my colleagues in academia but I get to work on real-world problems using data sets that academics would not be able to access
What advice would you give to someone looking for a career in data science?
Matt: The most effective data science teams have specialists in cloud computing or Natural Language Processing who can provide a unique skill in concert with the rest of the team's skills. I would highly recommend specialising as soon as possible to differentiate yourself in the very competitive data science job market.
John: Learn R or Python.
Tell us about what you have enjoyed whilst working at NICD. Has anything surprised you?
John: I enjoy the variety of working at NICD. I still have close contact with my colleagues in academia but I get to work on real-world problems using data sets that academics would not be able to access.
Matt: The tools and techniques of data science are developing at a fast rate. I am very pleased that NICD provides me with the time to keep up-to-date with these developments so that I can teach how to do data science with the latest tools and the most advanced and effective techniques.
The Essential Questions
Tea or coffee?
Jonny: Coffee
Matt: Neither
John: Yorkshire Tea
What do you like to do in your spare time?
Jonny: Running, road cycling, playing guitar
Matt: Rock climbing
John: Home automation projects, Motorbike touring, DIY, Gaming
Favourite Film?
Jonny: Airplane
Matt: Cloud Atlas
John: V for Vendetta
A good book for a rainy day?
Matt: Harry Potter
John: Pern Series by Anne McCaffrey
What was the last TV show you got addicted to?
Jonny: Stranger Things
Matt: The Queen's Gambit
John: Star Trek: Discovery
What was your first job?
Jonny: Bar Staff at St. James' Park
Matt: Rides Operator at Lightwater Valley
John: Knotter
How do you look after your wellbeing?
Matt: Mindfulness Meditation
John: Balanced diet and lots of dog walking
Do you have a signature dish?
Matt: Pasta
John: Saag Aloo
Name one challenge and one bright spot about working remotely
Jonny: The challenge is that it can feel isolating. Working remotely allows me more time to read and develop my skills independently without the interruptions of working in an open-plan office.
Matt: It is much harder to communicate effectively with the team but you can study and prepare distraction-free for meetings with clients.
John: Challenge: Having a five-minute chat usually means arranging a video call, rather than just tapping someone on the shoulder. Bright Spot: You can't beat the commute!